Jerry Lewis Cinema
3230 Yorba Linda Blvd., Fullerton, CA.
Specifications
Operators: Jerry Lewis Mini Cinemas
Status: Demolished
Opened: 12/10/71
Closed: Circa 1976
Current Use:
Screens: 1
Seating: Slope
Profile
The Jerry Lewis was one of the first theatres in the ill conceived Jerry Lewis Cinema chain and, much like it's parent company, this venue had a short, disappointing run.
In 1969, entertainer Jerry Lewis had partnered with the Network Cinema Corporation to form a theatre chain that offered "mini cinema" franchises. The concept involved franchising small (1-3 auditoriums, 100-350 seats) theatres to anyone who could put up an initial investment of $50,000. The company promised a design and business model that would practically run itself; thus, drawing in a large number of inexperienced, would-be theatre moguls (190 sites at the company's peak).
Promotional materials of the time touted "mini cinemas" as having fully automated projection, luxurious decor, and the backing of Mr. Lewis' vast experience in the entertainment industry; calling for as little as two workers to run a successful theatre. A caveat to operating one of these "modern wonders" was the requirement that only family oriented programming be shown.
Ultimately, the "mini cinemas" proved far less fool proof than advertised and the venues began to fold almost as quickly as they had opened. By 1980, the chain was defunct and the company had filed for bankruptcy.
The Yorba Linda Jerry Lewis opened in December 1971 with "Tora! Tora! Tora!" and a grand opening ceremony attended by Debbie Reynolds and Glen Ford. Both Reynolds and Ford were reported to have left their hand/footprints in commemorative concrete tiles outside the theatre. However, within five years, this theatre had gone under and the site was quickly converted to retail.
Images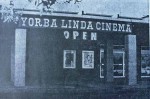 Click on images for larger view