Temple Theatre (also known as Walker's Theatre)
220 North Bush, Santa Ana, CA.
Specifications
Operators: Schlesinger/Walker/Cabaret
Status: Demolished 1963
Opened: 2/1/09
Closed: 1956
Current Use:  Parking Lot
Screens: 1
Seating: Slope 844 seats
Profile
Originally opened as the Temple Theatre, on February 1, 1909, this was one of the first movie theatres in Orange County. Initially operated by A.M. Roberts and L.A. Schlesinger, the theatre was closed in July of 1915 in favor of the nearby West End Theatre, which was billed as the first venue constructed especially for the showing of "cinematography productions" (the Temple having been originally constructed for non film purposes).
The theatre was reopened on September 24, 1936, as Walker's Theatre, by Charles Walker and his son. The Walkers were also behind the Princess Theatre, Walker's State (West End) and the New Walker (later known as the Fox West Coast) in Santa Ana. This second life saw the venue heavily remodeled, in an Art Deco style, for a reported cost of $75,000.
By 1952 Cabaret Theatres had taken over operation of the venue, primarily operating the site for hold overs and B level films, marking the venue's sharp decline in to neglect and irrelevance. In 1956, Cabaret underwent financial difficulties and defaulted on a series of loans, closing the Temple/Walker for good.
In March of 1963, the property was purchased by the city of Santa Ana and demolished, to make way for a parking lot.
Images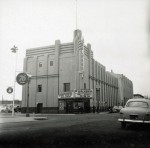 Click on images for larger view