Liberty Theater (also known as Building 6)
4411 Yorktown Ave., Los Alamitos, CA. 90720
(714) 827 – 7141
Specifications
    Operators: Military/Independent
    Status: Open
    Opened: 1942
    Closed: NA
    Current Use: Live Theater 
    Screens: 1
    Seating: Slope 1,040 seats (currently 904)
Profile
Located on the former Los Alamitos Naval Station (now known as the Joint Forces Training Base), the Liberty Theater opened in 1942, as the nondescript "Building 6". The site of military briefings, live USO shows, and films, the theater initially served armed forces awaiting deployment during World War Two. After serving as a military entertainment complex, for over thirty years, the theater was "mothballed" in 1977, when the base was converted in to a National Guard outpost. Languishing for another twenty five years, the site was rescued from obscurity, by the non profit Theatre Guild, Southeast Civic Light Opera, and Children's Repertory Company, in 2002. Following an extensive remodel, the, newly rechristened "Liberty Theater" reopened as a live performance venue, serving both military and civilian audiences.
Due to the theater's military roots, the site was built without traditional amenities, such as a concession stand or formal lobby. Featuring a long, narrow, two level auditorium, the venue originally sat 1,040 and featured a plain pea green color scheme. Following the theater's 2002 remodel, the seating was reduced to 904, in order to expand the stage and create a more functional lobby space. The pea green color scheme was replaced by white and blue, with large murals painted on opposing side walls of the auditorium. Having been dedicated to live performances, the  projection booth and movie screen were removed, to make way for additional lighting and sound equipment.   
Trivia
Being the closest military installation to Hollywood, the Liberty regularly served as a site for film shoots. Perhaps the theatre's most notable appearance may have been in the Oscar winning film "Patton". The opening  scene in which General Patton, as portrayed by actor George C. Scott, spoke in front of a large American flag, was allegedly shot, in part, on the Liberty's stage. While this event is commemorated by a plaque, located in the theatre's lobby,  there is some question as to the validity of the claim.
Images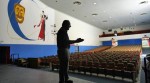 Click on image for larger view